Show Times
Timezone
:
GMT
[UTC]
Mon:
Thu:
Fri:
Sat:

*

Encore Presentation
About the Show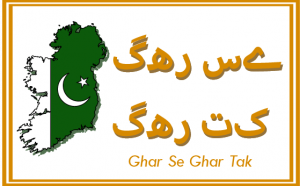 Join Asiya Saleem every Friday at 8.00pm for our Urdu language programme 'Ghar se Ghar Tak'.
Ghar se Ghar Tak is the Urdu language show on 92.5 Phoenix FM. Presented by Asiya Saleem, each week the show features a different profession about their journey since they arrived in Ireland. Professions include Doctors, Business people, Sports people, Psychiatrists, Politicians, Religious Scholars, Journalists, etc.
The show also has a brief news round up as well as a recipe of the week which are linked below.
If you have a comment on any of the topics covered or would like to pass on some information you can get in touch with us by emailing info@phoenixfm.ie or calling us on 01 822 7222.
You can listen live from 8.00pm to 9.00pm each Friday evening on 92.5 FM in Dublin 15 or online at www.phoenixfm.ie around the world.
If you have any questions or queries please feel free to contact us on 01 822 7222 or email info@phoenixfm.ie