This competition is open to secondary school students in Dublin 15.
The words must be your own. 500 max. One entry per student. Judges decision is final. Prizes are vouchers. 5 winner x €100. Winners will not be ranked. Winners will get to read their words on radio.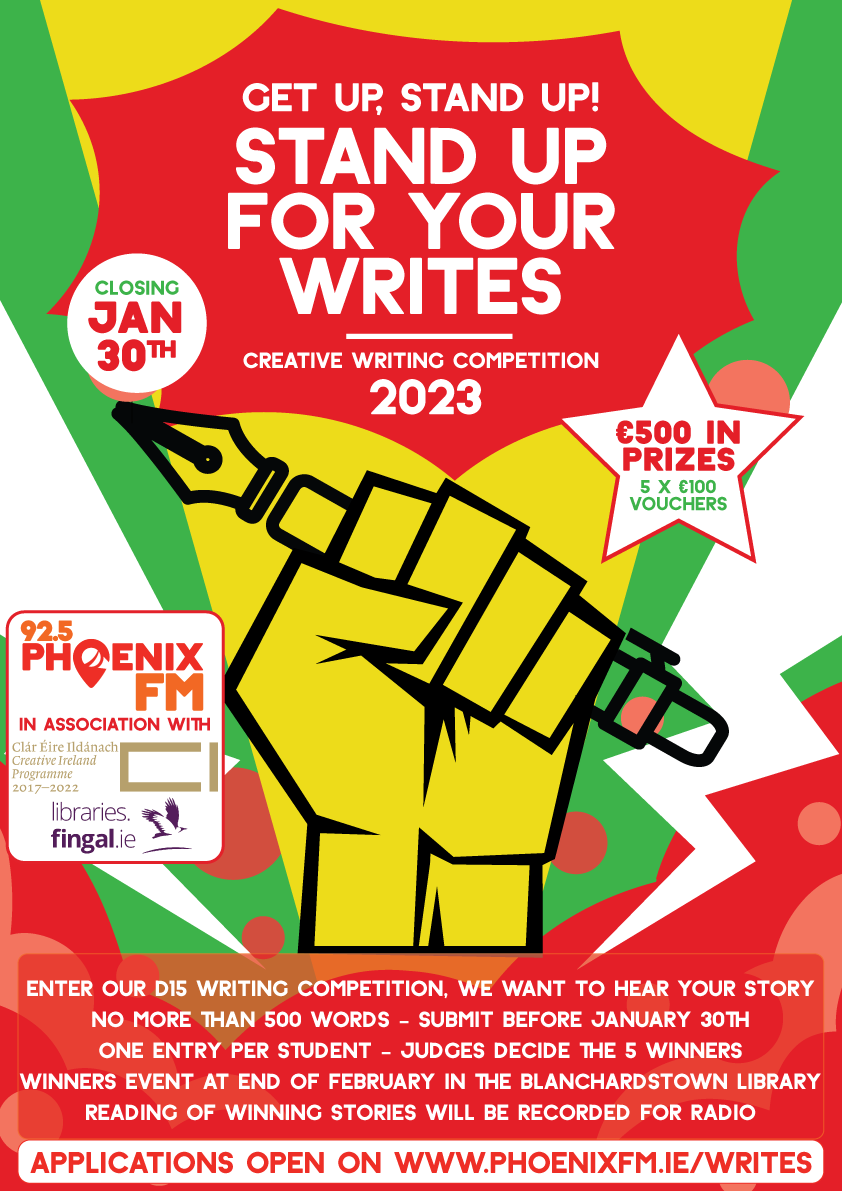 Competition Rules
The writing competition is open to Secondary School Students in Dublin 15. 
Your story must be a new and original work that has not been previously published.
Your story must include the opening line
"It's 2023, This is Dublin 15, I want to stand up for ……"
Your story must be no more than 500 words in length. There is no minimum length.
Your submission will be anonymised for our judges.
Your submission must be a Microsoft Word, Apple Pages, or plain text document.
Entry Fee: Nil
Submission will be submitted online only at the form on this submission page.
The Competition Judges, will determine the winners
All decisions made by 92.5 Phoenix FM regarding the winners are final.
All submissions must be received before the competition deadline at 17:00 30/01/2023. Late entries will NOT be considered.
Winners and schools will be contacted by email.
The authors of 5 winning stories will receive a €100 voucher.
All winning stories will be published on 92.5 Phoenix FM. 
Authors retain the rights to the stories they submit. By participating in the competition, each author represents and warrants that: 
(i) the submission is original to the author, and all right, title and interest (including but not limited to copyright) therein and thereto is exclusively owned and/or controlled by the author to the full extent necessary to enable 92.5 Phoenix FM to use the submission as contemplated by these Competition Rules; 
(ii) the submission does not contain any material that is unlawful, in violation of or contrary to the laws or regulations in any jurisdiction where the submission is created; 
(iii) the submission does not infringe upon the intellectual property or other statutory or common law rights of any third party (including but not limited to copyright, trademark, personality or privacy rights); 
(iv) 92.5 Phoenix FM use and re-use of the submission in accordance with the terms set out herein will not infringe or violate the rights of any third party (including copyright), or require any payment to or consent/permission from any third party; 
(v) the submission has not been previously exploited or published in any form,
By participating in the comp, each author grants permission for 92.5 Phoenix FM to use their submission for editorial, advertising, and promotional purposes without any compensation, unless prohibited by law.
By submitting your story to 92.5 Phoenix FM, you are agreeing to all competition rules. 
Competition rules are subject to change. Email writes@phoenixfm.ie with any questions.