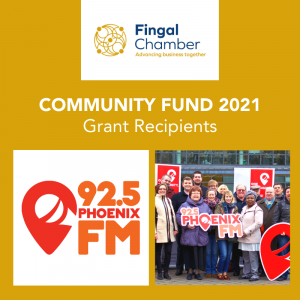 (March 19th 2021) Fingal Chamber has awarded over €15,000 to community-led projects and activities under the new Fingal Chamber Community Fund, with the announcement made at a special online event with Minister Joe O'Brien.
Established in 2020, the Fingal Chamber Community Committee, which oversees the fund, aims to create a Fingal which is sustainably developed for the benefit of the people who currently live and work here, and for future generations who will inherit the region.
The Fingal Chamber Community Fund is targeted at supporting communities on developing initiatives in a variety of categories such as environmental and sustainability, health and wellbeing, and social inclusion and community development.
Fingal Chamber announced the successful groups and projects at an online event on Thursday, the 18th of March. The event was opened with an address by the Minister of State at the Department of Rural and Community Development with special responsibility for Community Development and Charities, Joe O'Brien TD.
A diverse range of projects across Fingal are receiving funding through the Fingal Chamber Community Fund, including Blakestown Mountview Youth Initiative (€2,500), Swords Celtic FC (€2,177), Phoenix FM (€1,810), St John's Ambulance Swords Division (€1,500), and Crosscare Youth Service (€1,500).
The award in the Gender Diversity section was accepted by 92.5 Phoenix FM chair Noreen Byrne.
More details about this project will be here over the coming months.