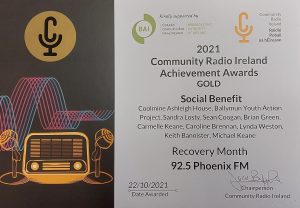 The month of September is dedicated to celebrating recovery. The theme for 2021 was
"Recovery is for everyone: Every person, family and community"
below is all the audio output Phoenix FM created for Recovery Month 2021, for which we were awarded a GOLD CRAOL award in October.
A series of programmes produced and recorded by "Ballymun Does Recovery" in collaboration with 92.5 Phoenix FM bring this theme to life in a series of 5 programmes that explore why it is important to celebrate recovery.
Programme 1 broadcast 01/09/2021

Programme 2 broadcast 08/09/2021

Programme 3 broadcast 15/09/2021

Programme 4 broadcast 22/09/2021

Programme 5 broadcast 29/09/2021

Other programmes broadcast during Recovery Month

'A Proper Da' written by Maeve Ingoldsby
Performed by The RADE participants
Directed by Jody Jones
Produced & edited by Niamh Hanlon
Engineered by Cathal O'Grady
Supported by the Department of Employment and Social Protection and the HSE
Listen in on Friday September 17th Culture Night – we will broadcast 'A proper Da' radio play from RADE.IE at 6PM.