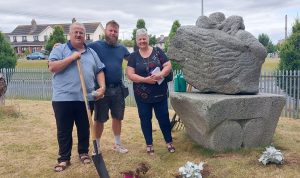 Last week we visited the Blanchardstown Traveller Development Group for Traveller Pride Week at Parslickstown House in Mulhuddart. We spoke to Catherine Joyce, one of the managers at the BTDG.
Here is the audio we gathered on the day as we spoke to Catherine along with others involved at the Blanchardstown Traveller Development Group.
"Embracing a modern traveller culture with creativity in our roots."
BTDG is a community development organisation committed to securing Traveller Human Rights at a local, national and international level.
BTDG strives to address and respond to the inequalities faced by Travellers living in Dublin 15 and surrounding areas.
They encourage and support Traveller participation in the decision-making process on issues that affect their lives. They nature Traveller creativity and support inclusion and control of their community's cultural contributions.
For more information about the Blanchardstown Traveller Development Group, visit their website on www.btdg.ie